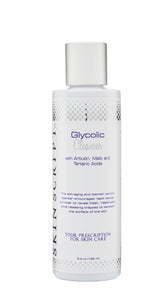 Grand Deluxe Beauty
Glycolic Cleanser
Regular price
$11.00
$0.00
Unit price
per
This 17% glycolic cleanser breaks down oil and encourages cellular turnover to minimize oil and refine pores to reveal fresh, healthy skin. 2oz.
Refines pores and renews the skin
Reduces visible wrinkles
Brightens and invigorates the skin
Assists in boosting hydration levels
Reduces acne scars 
Enhances cellular turnover
WARNING: This is an extremely strong cleanser. Use with caution and discontinue use immediately if notable irritation occurs. 
Those with oily and acneic skin will find that this cleanser will provide excellent support for loosening blackheads and pebbling under the skin as well as lightening and reducing acne scarring.
Those with dry or sensitive skin should not use this cleanser.
Key Ingredients
Sodium C14-16 Olefin Sulfonate:a gentle foaming agent derived from coconuts
Glycolic Acid:an alpha-hydroxy acid that exfoliates to reduce keratinized skin and promotes collagen growth to diminish wrinkles. Promotes resurfacing to refine skin texture.
Malic Acid:a supportive alpha-hydroxy acid that promotes cellular growth and renewal
Tartaric Acid:an alpha-hydroxy acid derived from grapes that encourages exfoliation and cellular renewal, softens and removes keratinization on the skin
Alpha-Arbutin:limits melanin production, reduces visible pigmentation through lightening actions and the inhibition of tyrosinase.
---